Sport Development for Refugees in Calais, France – Jungle Camp

Sport for Mental Health Campaign
–
Sport Care Access work in the field of child and adolescent development through structured exercises/warm up, specific fun ball skills, technical training and providing fun games andcompetition to Migrant children in refugee camps in Calais, France. In addition to this core service, a referral service is in place in order to report to on-site organisations health and welfare issues pertaining to the child. Awareness groups are provided on human rights and mental health issues.
–
–
Needs in refugee camps' still great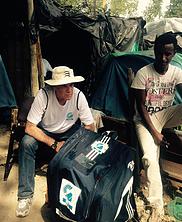 Short term needs such as emergency housing, access to water and sanitation ,clothing are required in the Refugee Jungle camp.French authorities will need to find long term solutions. Because if anything the conflicts in African countries like Mali and the war in Syria will continue to drive people north.
The number of migrants caught so far this year at Calais has ballooned to 3,000 compared to 300 for the same period in 2013 – a tenfold increase.
–
"The men have knives and drink and fight. We are scared of being raped"
What life is REALLY like for migrant women and children trapped in the Calais 'Jungle' camp
Ethiopian and Eritrean Christians reveal hopelessness of camp life
There are now 333 women and 123 children among the 4,000 now living in the camp
Prostitution is becoming common among those desperate to make money
Gendarmerie patrol outside the camp but never enter to keep people safe
Women say they sleep up to six in a tent as they are fearful of being raped