Development sports projects have commenced successfully in Kinshasa, DRC Congo, with adults and children taking part in coaching, activities and games. Projects include cricket, hockey and street athletics all conducted in Ndjili District, Kinshasa.
–
Cricket for Street Children
Kinshasa DRC street children, schools development cricket launched succesfully.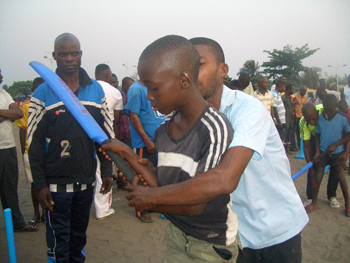 Programmes for streetchildren and cricket clinics for schools began in the district of Ndjili in Kinshasa on a dusty sports complex consisting of four totally inadequate football fields, a basketball court with taxis driving through frequently.This was the location for children to experience cricket for the first time ever. Our coaching of cricket will reflect the British way of playing the game, well known for sportsmanship, cameraderie, and etiquette and forge a link between the DRC Congo and the United Kingdom partners.
Ndjili District is a densely populated and poor area of Kinshasa. A group of 300 – 400 children were present at most clinics each day as coaching took place, with some entertaining games for the children.Streetchildren had the opportunity of individually holding a cricket bat for the first time, learning some of the very basic skills of the game such as the stance positions in batting, shadow stroke-making and catching or fielding a cricket ball. Suitable games were played in order to learn the correct way to do this. The enthusiasm and atmosphere was electric.
Development cricket always presents the coaches with surprises, as children seem to possess 'natural' ability' at the age of 6-8 to play freely, which is the core objective. Throughout the clinics we observed some 'special' talent which we have recorded and so created a squad of children who will be given extra coaching.Many schools in the area requested clinics, as we made our presence felt in Ndjili.
With Government giving Sport Care Access its blessing to work throughout the DRC Congo in all schools, an enormous task lies ahead to set a development programme in place that will inspire children and help them create a sporting vision for themselves and a possible career and new hope in their abilities as individuals.
Twenty-four coaches were fast-tracked in the basics of the game and currently carry out demonstrations and clinics on a daily basis. We plan to duplicate the clinics in different parts of the district in the near future.
Sport Care Access will return shortly for a longer period of sessions and to ensure that the programme sustains its' momentum, constantly bringing in new volunteer coaches from the area, fresh talent and support from the outside including more Government support and business involvement in a long-term strategy for success .
We would also like to thank the England Cricket Board for their valued support.
–
Schools Development – Cricket
School cricket coaching clinics are being conducted in Ndjili District, Kinshasa, in classrooms and outdoor.
Equipment has been provided and volunteer coaches are teaching children the very basics of the game.
More needs to be done in schools in Kinshasa, as there is little activities and organised school sport for children in the afternoon.
–
Coach Development
COACHES COMMENCE TRAINING IN DRC CONGO
The search began for trainee coaches in the district of Ndjili, Kinshasa, DRC, where over population has caused massive numbers of unemployed, and children living on the streets.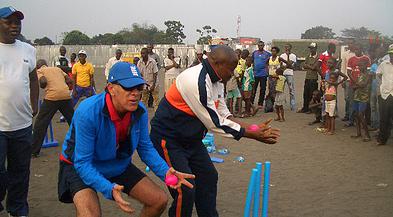 Trainee coaches underwent a trial afterwhich 24 were selected to begin pilot training in the game and skills of cricket.Enthusiastically they trained for two weeks learning the basics in order to impart knowlede to the group of street children who were awaiting coaching sessions daily.
Under the guidance of an English professional coach from North London, United Kingdom and formerly a United Cricket Board professional development coach, South Africa, the trainees were expertly guided through the technical skills on each department of the game.
Over the two week period hundreds of onlookers became interested in either playing or coaching, and a steady list of prospects was built.
A powerful partnership has been brokered with the Kinshasa community to ensure the sustained success of this national cricket project.
The project, the brainchild of Sport Care Access has been warmly recieved in Kinshasha, and promises to go from strength to strength, provided commitment and vision prevails.
It is imperative that the community takes ownership of the project under solid administration,guidance and ongoing mentorship.
–
Hockey for Street Children
Grassroots hockey development launch in Kinshasa,Congo DRC
A grassroots hockey programme is underway in Ndjili District, Kinshasa, where a hockey demonstration took place with a group of 25 children and 200 onlookers. A game foreign to the DRC Congo, children were given the opportunity to use the hockey stick, shoot at goal, and learn about the basics of the game.
A thick sand-based surface was not ideal but the programme, once inplemented will skill children extremely well in ball control untill a synthetic sponsored surface is laid.
The following areas of the game were covered:
– striking the ball from a stationery position – striking the ball 'on the run'
– dribbling the ball goalward -stopping skills -flicking skills – reverse stick strike – general skills used in the game of hockey
Members of the community took an interest in becoming involved and assisted in mobilising children from the area. A new culture for hockey will certainly develop within the community over time.The hockey programme began in September 2013 where softball exercise, training and games took place.
–
Mental Health Support Project

Providing mental health support for children in Kinshasa, DRC Congo, especially street children and those from unsettled backgrounds is a priority attached to the cricket clinics which are conducted for children.
We understand that certain issues within the framework of child and adolescent development need to be addressed within this economic climate, and where it has been easy for children to be influenced into a negative and destructive lifestyle.In addition to this there are children who have already been affected by undesirable circumstances in their life already.Sport is ideal and essential for assisting children in many respects, overall to assist them in adjusting into a robust, competitive society and help them develop a more balanced perspective on real life issues in order to achieve their goals.